How To Turn Monopoly Into A Drinking Game
I was recently on a stag party weekend that saw me take full advantage of the residents bar. In the hotel lobby there was a variety of board games. A friend and I in an effort to continue drinking long into the night and not pass out asleep decided we'd play monopoly to help stay awake. Here's How To Turn Monopoly Into A Drinking Game!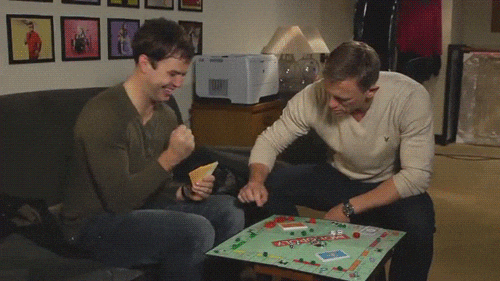 This game of Monopoly soon turned into a drinking game. This is how to turn Monopoly into a drinking game lads.
The game plays as normal with just a few rules added on:
Drink if you land on someones property but down it if they own the entire set.
Drink a shot if you land on a hotel
Nominate someone to drink for 5 seconds should they past 'GO'
Land on Chance, the barman chooses a shot/drink for you
Land on Community Chest, you get to choose the shot!
Roll a double, down your pint.
If you land yourself in Jail. Bail is to down 2 pints to be released.
If the bank owes you money, you can choose to have someone down their drink.
I won't lie after a heavy night on the lash, this game was tougher than it looks. I've also never been good at monopoly even when I'm sober. This would also make a great drinking game to get the second wind on day 2 of the stag!
As with any stag party weekend adding a few little extras to any game, football match or stag party activity will make for a great stag party drinking game.
Finally, if you do help planning a rip roaring weekend with the lads. Then contact us at info@stagparty.ie today for more information!
So lads, don't forget to check out our website and also follow us on Facebook if you're looking for more information for your Stag Party. Whether it's activities, locations, ideas or tips, we've got it all!